Chandra Bahadur Dangi and Jyoti Amge
It was always going to be a big event even though it involved two very small people.
Chandra Bahadur Dangi, the world's shortest man and the world's shortest woman Jyoti Amge, met for the first time to celebrate the organization which made them famous.
The 18-year-old from India and the 72-year-old Nepalese both made headlines last winter when they were given their titles by the Guinness World Records.
Chandra Bahadur Dangi and Jyoti Amge may be generations apart but were joking and laughing as they posed for photos with the new book, both dressed in traditional outfits from their native countries.
The photoshoot for the release of the book gave them another record to add to their list – it is the first time the world's smallest man and woman have met in recorded history.
The book placed between them looks gigantic compared to the pair but is in fact only 1ft high.
Jyoti Amge took the title on her 18th birthday on December 16th last year.
The teen from Nagpur in central India has a form of dwarfism called Achondroplasia which means she will stay 2ft0.7in for the rest of her life.
Despite her size, she has big dreams and has already starred in a number of Bollywood films and is pursuing a career in entertainment.
She is set to visit the UK in September to help launch the new book and says she can't wait.
'Since being recognized by Guinness World Records I have been able to visit lots of different countries. I love traveling.
'I have visited Japan and parts of Europe and now I can't wait to visit the UK.'
Whilst the bubbly teenager is looking forward to conquering the world, 72-year-old Chandra Bahadur Dangi's biggest moment in his career as the worlds shortest is the publication of the new book
'I'm very happy that my name will be written in a book. It's a big thing for my family, my village and my country.'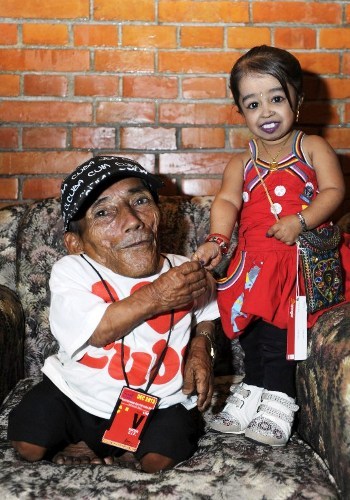 Mr.Chandra Bahadur Dangi
hails from a small village called
Rhimkola
, 250 miles west of Kathmandu where, until recently, he spent his entire life.
He made headlines across the globe when he received his title in February 2012.
He left his village for the first time in his life to fly to the capital of Kathmandu to meet and be measured by Guinness World Records officials.
At 21.5in Mr.Chandra Bahadur Dangi is also the shortest man in history, breaking the previous record of India's Gul Mohammed (1957–97) who was 22.5in tall.
The official authority on record-breaking achievement is set to release its 57th edition of the world's best-selling copyright book, Guinness World Records 2013.
The book has sold 120 million copies to date and Guinness World Records receives more than 1,000 applications each week and has a specialized team of multi-language record managers and adjudicators who travel the globe to verify official record attempts.