Far cheaper than Prague or Budapest, Bucharest offers much of the culture of the neighboring capitals without the crowds. A three-course dinner at one of the city's most revered restaurants costs less than the equivalent of $30, and the best seats at the opera are about $9. Of course, there's more to hear than just fat ladies in Viking helmets. The music scene starts with the great 20th-century composer George Enescu, but it quickly branches out to house D.J.'s like Alien Pimp and rollicking Gypsy bands like Taraf de Haiduks.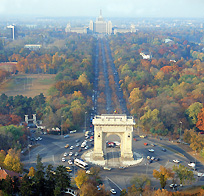 The cityscape is equally vibrant, with Byzantine churches crumbling next to palatial Beaux-Arts town houses and minimalist International-style blocks. Though Bucharest, the capital of Romania, used to be called Micul Paris (Little Paris), the architecture is more varied than the City of Light's, and long boulevards like Victoriei and Dacia offer photo-worthy sights on every corner.
But the gritty tableaus are fading fast, as much of old Bucharest is getting cleaned up. In the 17 years since the fall of Communism, Romania has attracted scores of outside investors, and the money seems to be pouring in faster as the country approaches its scheduled entrance into the European Union in 2007. But for now, it remains a quirky little place, and you can still see the sights without souvenir shops and postcard vendors getting in the way.
WHERE TO STAY Bucharest's hoteliers clearly have their eyes on business travelers, and many rates are listed in euros (and even dollars), instead of the local currency.
The city's freshest beds are at the plush Novotel (Victoriei 37b; 40-21-312-5114; www.novotel.com), a tower with 258 rooms that opened last month. The Ikea-esque modern décor is light and airy.
Nonetheless, the old Athénée Palace Hilton (Episcopiei 1-3; 40-21-303-3777; www.hilton.com) remains the queen of the scene. Built in 1914, the hotel was renovated 10 years ago, preserving many of the original elements, like the opulent ground-floor ballroom. And it's centrally located. Rates vary according to the season.
For local color and slightly lower prices, the nearby Hotel Capitol (Victoriei 29; 40-21-315-8030; www.hotelcapitol.ro) retains the aura of a grand hotel from 1901, at least on the outside.
Romania may not instantly spring to mind when thinking of a holiday destination. However, whilst this European Union country is little travelled to, there are some fantastic sights to explore. The nation is also comparatively cheap compared to other Western nations, allowing you to get more for your money whilst you're away.
One of the overriding features of Romania is that it has remained as unaffected by modern day advances as possible. Whilst in the cities you may see cars zooming around, horse drawn buggies remain a popular mode of transport, and you may feel like you've stepped back in time. However, there are a great range of activities from exploring cultural retreats to taking to the mountains for hiking and biking, providing many reasons why Romania should be considered when booking a holiday away.
For more info visit : www.romaniaturism.com Enjoy….