A study by a university in Qatar shows that the number of Facebook and Twitter users in the Arab world has declined by five percent since 2013 while those using WhatsApp outnumbered all other social media platforms in four of the six countries surveyed.
"WhatsApp has been adopted in equal numbers across all age groups," said the study released by Northwestern University titled 'Media Use in the Middle East.' The study aimed at getting a gist of how people's views in Egypt, Lebanon, Qatar, Saudi Arabia, Tunisia, and UAE changed regarding freedom of expression, social media use, and news credibility,"
The results were collected after 6,093 interviews with "nationally representative samples of adults aged 18 or over in each country."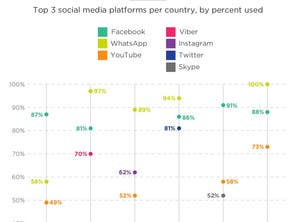 The university's findings may reflect a general desire for stability among people in the region who have seen the Arab uprisings go increasingly sour.
Egypt, where an elected Muslim Brotherhood government was overthrown in favor of a military-backed one and has seen increasing attacks by Islamists including ISIS affiliates, "was the only country in which there was an increase in support for tighter internet regulation among the total population, from 42 percent to 49 percent," the study said.
It found that people do "not necessarily [think] the 'democratizing' effect of the internet as a good thing."
It also showed "nationals who think online activity can increase political influence are 12 percentage points more likely to want tighter regulation of the internet."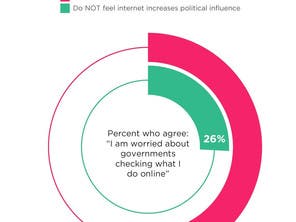 However, those who "consider the internet as a source of political empowerment may still be exercising that power, as they are more active on social media (13 percentage points more likely to post on social media daily and are 18 percentage points more likely to share news content on social media than those who don't."
Just over one percent also "worry about governments checking what they are doing online," the report said.
The fear increased in Tunisia where 41 percent feared the government might be checking their online activity in 2015. However, in Saudi Arabia 53 percent in 2013 expressed such fear but it declined to 47 percent in 2015.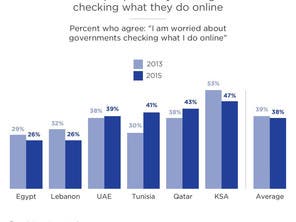 However, there was some good news as the study showed "trust in national media rose from 44 percent to 50 percent since 2013, but fewer saw improvement in quality of news reporting in the Arab world, which declined from 60 percent to 55 percent who say quality has improved.".. see more
source: alarabiya.net