It's the end of the curve. The new season's key look is all about squares, geometric shapes, right angles and lines
Remember that bit at the end of the Da Vinci Code movie, after Tom Hanks has been looking everywhere for the chalice or inverted pyramid or whatever it is that will lead him to the Holy Grail? After all the deciphering cryptograms and fighting people in churches, he finally realises that what he's looking for must be right back where he started his search, because what matters is the shape, and next to the big glass pyramid at the Louvre there's that little inverted glass pyramid, the one that makes a skylight over the underground gift shops, and so the answer was in plain sight in front of him all along.
Well, fashion for the new season is a bit Da Vinci, except the maths isn't so tricky and hoods are totes over. Just like Tom Hanks, I was trying to figure out What It All Means – is the key to a successful new season wardrobe to channel one's inner 1970s groupie (YSL) or planning a look around a surreal fluffy shoe (Céline) or wearing fuchsia top-to-toe (Gucci)? And all along, the answer was right there in front of me. I was going around in circles, and the answer was a square.
Fashion's holy grail right now is to be square. (Literally. We're talking right angles, not geek chic.) The square is the visual link that connects the season's key fashion shows with the advertising campaigns now launching in the glossies and the It bags now flying out of Selfridges. Because it's a shape, rather than a colour, or a decade, or a classic film, it's easy to miss – but once you spot it, the square is everywhere.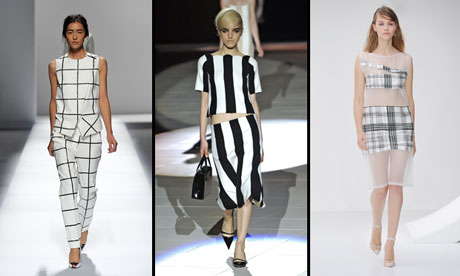 Squares and lines from Sportmax, Marc Jacobs and Unique from Topshop. Photograph: Composite
Paris fashion week was bookended by catwalk shows designed around squares. It began with Raf Simons' first ready-to-wear show for Dior, which was staged in a giant white cube built for the occasion beside the gold dome of Les Invalides. Inside, the space was divided into a series of interconnecting white rooms, linked by square windows hung with sheer curtains in sugar almond shades. A week later, it ended with Louis Vuitton and a stage set created by French installation artist Daniel Buren, which featured a giant checkerboard catwalk in white and buttercup yellow on which models, in neat pairs, carried handbags in the Vuitton Damier check. And both Dior and Vuitton have reprised the squares from their catwalk shows to star in their multimillion-pound advertising campaigns, dispelling any notion that the geometry was just a piece of set-dressing whimsy. The Vuitton adverts star models in checks, set against checks; for Dior, the square windows of the catwalk tent become an elegant backdrop for the Dior woman to strike her New Look poses.
Here in London, the humble square began to show its style credentials before Christmas, when jumpers with squares on emerged as a surprise competitor to the traditional popularity of the festive jumper. In early December – peak season for a jolly snowflake/reindeer knit – the fashionables were quietly placing orders for Richard Nicoll's latest men's sweaters, which feature a simple square of blue or white on a grey background. (The new Whistles collection features a similar womenswear sweater.)
ref: guardian.co.uk