It is difficult to trace who coined the term Chinese Valentine's Day to refer to Qixi Festival, but the introduction of Valentine's Day into China and the growing consumerism are of two of the driving forces behind its renaming.
Hotels, shops, restaurants, and florists are among those who gear up to cope with the booming business.
This year the Qixi Festival falls on August 23, the seventh day of the seventh lunar month. Based on a legendary love story, it was traditionally a day when young, single women demonstrated their domestic arts skills and wished for a good husband.
As the story goes, once there was a cow herder called Niulang, who was forced to stop living with 
his older brother because his brother's wife was cruel to him.
He was left with only an old cow. This cow seemed ordinary but it was actually a former god who had violated the rules of heaven and had been cast down to earth in bovine form.
The cow wanted his kind master to have a happy life so led him to a lake where sevengoddesses
had come to take a bath.
Niulang fell in love with the youngest goddess, Zhinu, at first sight.
Zhinu, a skilled seamstress and weaver, liked her admirer so she did not go back to
heaven and married Niulang instead. They lived a happy life and had a son and a daughter.
But all was not well.
In the eyes of the Emperor of Heaven, marriage between a mortal and a goddess was strictlyforbidden so 
he sent his wife to fetch Zhinu.
Niulang soon discovered his wife had been taken, and with the help of the old cow, flew up intothe 
heavens to rescue his wife from the Empress.
The Empress was angered by Niulang so she used her hairpin to slash the sky and create theMilky 
Way in an effort to block their pursuit.
A tiding of magpies who had been watching all the action, was moved by their love and devotion.
They formed a bridge across the Milky Way to help the family reunite.
Even the Emperor of Heaven was touched, and allowed Niulang and Zhinu to meet once a yearon 
the seventh night of the seventh lunar month.
Though the reasons behind the festival are pure of heart, some believe the growing
commercialization of the holiday is due to Western emphasis on Valentines Day.
In any case, on the seventh of the seventh, lovers and romantics will have plenty of gifts 
toexchange, holidays to plan, and even marriages to register.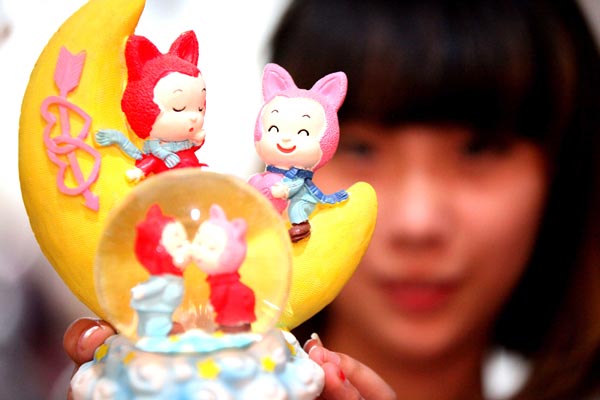 A woman shows traditional decorations for a Chinese wedding
ahead of the upcoming QixiFestival in a shop in Bozhou, Anhui province,
Aug 5. [Photo by Liu Qinli/Asianewsphoto]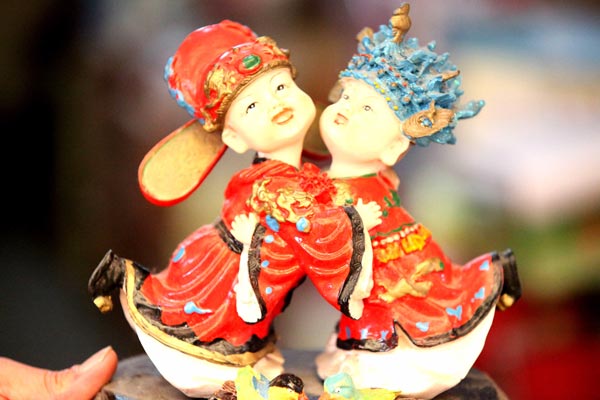 Traditional decorations for a Chinese wedding ahead of the upcoming
Qixi Festival in a shop inBozhou, Anhui province, Aug 5. [Photo by Liu Qinli/Asianewsphoto]
Ref: http://www.chinadaily.com.cn